Top Spring Break Experiences for Families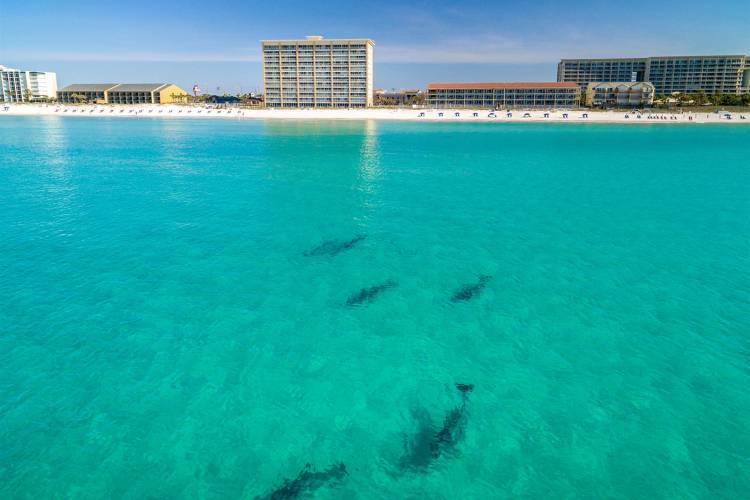 Dive into family fun this Spring Break at Destin Gulfgate. Our spacious, beachfront condos are conveniently located in the heart of Destin, making it the perfect base for your family vacation. 

1. Rent a pontoon boat and spend the day at Crab Island
The beach drew you here; the sandbar will have you coming back. Locals and in-the-know tourists head to Crab Island for the best of what Destin has to offer. No matter how crowded it gets, you always have a waterfront seat when you pull your boat up to Crab Island. Rent a pontoon for the day and enjoy floating obstacle courses, food from floating restaurants or just rafting up with some buddies at this offshore beach party. Check out Boogie Water Sports or Destin Vacation Boat Rentals and start planning your day at Crab Island!




2.Destin History & Fishing Museum
Learn how Destin went from an obscure fishing village to a premiere tourist destination at the Destin History & Fishing Museum. You'll discover why the sand is white, why it's the "World's Luckiest Fishing Village," and see fun artifacts including the historical 1920s Primrose seine boat and over 75 mounts of locally caught fish. The 5,500-square-foot museum is tucked back on Stalhman Avenue, right across from the Destin Community Center.
 
3.Stand Up Paddle Boarding
You've never seen Destin like this. Stand-up paddle boarding offers a view like no other…literally standing on water. The Gulf is always a great option (on calm days) but your family will also love Destin Harbor's no wake zone. Put in at Norriego Point and paddle past the live music happening on the boardwalk. Just be sure to hug the shoreline and look out for boat traffic when crossing the Harbor. You can also cruise the peaceful canals in the local neighborhood known as Holiday Isle. Expect to see plenty of wildlife including dolphin, turtles, and shore birds. Sup Express offers full and half-day rentals in addition to guided tours. 




4. Gulfarium Marine Adventure Park
It's not unusual to see dolphin playing in the Gulf or in the harbor. But if you want to see them really put on a show, head to Gulfarium Marine Adventure Park. Get up close and personal with sea life such as stingrays, turtles, penguins, seals and sea lions. You can even sign up for an animal encounter such as snorkeling with stingrays, feeding  the penguins or playing in the water with the dolphin. 

5. Destin Restaurants
You can't visit the "World's Luckiest Fishing Village" and not sample the seafood. Eat like a local by savoring fresh catches from the eateries that line Destin Harbor. Cobia is just hitting peak season mid-March, followed by trout and Spanish mackerel. Of course, local favorites such as shrimp and red fish are available year round. Stand outs in local seafood include Boshamps Seafood and Oyster House, Louisiana Lagniappe and Dewey Destin's. 

6. Fishing
If you haven't noticed, fishing is kind of a big deal in Destin. Try your luck with shore fishing, casting a line on the Okaloosa Pier or taking a charter trip. If you're looking for an all-day adventure, the charter is the way to go. Head out on the water on a private group charter, or meet some new friends by joining a shared excursion. With the largest fishing fleet in the country, there are plenty of charter boats to choose from! Our favorites include One Shot Fishing Charters, Swoop Party Fishing Boat and Destin Inshore Guides.




7. Snorkeling
If you think the water is beautiful from the beach, just wait until you catch a glimpse from below the surface. Large schools of fish, stingrays, seahorses, sea urchins and sea turtles are all visible from snorkeling at key spots like Norriego Point, Henderson Beach State Park and the Destin Jetties. Two- to three-hour tours are available through Destin Snorkel and Flipper's Adventures.




8. Dolphin cruise
If you haven't raced a dolphin on a boat, you haven't truly experienced the Emerald Coast. Our playful mascots love to follow local boats, and the crystal clear water makes a sighting even more exciting. Several dolphin cruises are available from Destin Harbor, including Dolphin Cruise Destin and Southern Star.

9. Buccaneer pirate cruise
Yo-ho-ho and a bottle of rum (or a fresh fruit smoothie). The Buccaneer Pirate Cruise offers something for everyone – from responsible parents down to their lil' scallywags. The 100-foot, triple deck pirate ship sets sail from Destin Harbor. Once on the high seas, it offers pirate training, sword fighting, water-gun battles, a treasure hunt, authentic cannon fire and more. Reservations are recommended. 




10. The Track or Big Kahuna's
It's not all about the beach – Destin also offers plenty of fun on land. Big Kahuna's Adventure Park opens March 7 for Spring Break, with attractions such as the Cyclone Twister, mini golf, the Sky Coaster and Honolulu Half Pipe. If motor sports are more your game, The Track satisfies anyone's need for speed with go karts, games and an arcade.