Celebrate Independence Day in Destin: A "Spark"tacular 4th of July Guide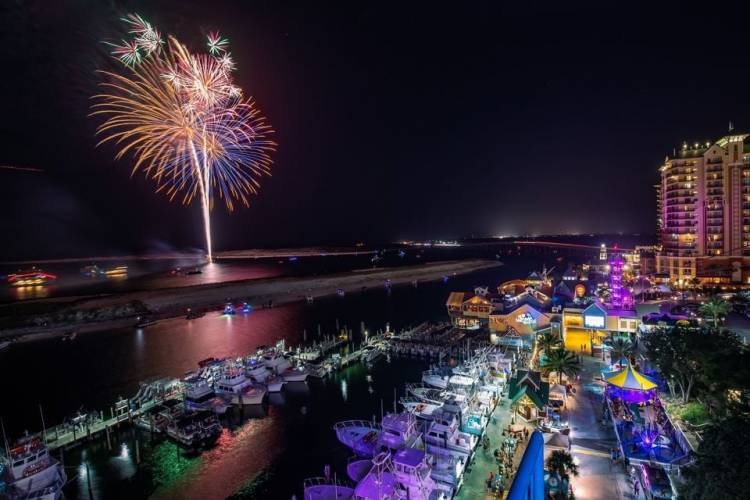 As summer heats up, there's no better place to celebrate America's Independence Day than the beautiful coastal city of Destin, Florida. Known for our warm beaches, vibrant atmosphere, and breathtaking sunsets over the Gulf of Mexico, the destination offers a wide array of activities and events that will make your 4th of July truly "spark"tacular. When it comes to finding the perfect accommodation, look no further than our beautiful condominiums at Destin Gulfgate, where comfort meets convenience for the ultimate beachfront experience.
Soak Up the Sun on Destin's Gorgeous Beaches
Destin is renowned for our sugar-white sand beaches and crystal-clear emerald waters. Spend your 4th of July basking in the sun, building sandcastles, or simply strolling along the shoreline. The beach is the perfect place to relax and appreciate the natural beauty that surrounds you. When you stay with us we offer 465 linear feet of unobstructed, private beach for our guests! The best part is with your Destin Gulfgate booking you get a front-row complimentary beach set-up complete with 2 chairs and 1 umbrella (from March 1st through the Sunday after Thanksgiving. Excluding November monthly reservations).
Embark on a Dolphin Cruise
Enhance your 4th of July experience by embarking on a dolphin cruise. Destin is home to a thriving population of playful dolphins, and witnessing them in their natural habitat is an enchanting experience. Cruise along the Gulf Coast, soak in the scenic views and create memories that will last a lifetime. For an unforgettable experience, make sure to book with Southern Star Dolphin Cruises or AJ's Water Aventures.
Explore Destin Harbor Boardwalk
Destin Harbor Boardwalk is a lively hub filled with shops, restaurants, and entertainment options. Stroll along the boardwalk, indulge in fresh seafood, and enjoy live music. As the sun sets, you can witness a dazzling fireworks display illuminating the night sky, creating a magical atmosphere.
Go Fishing
Destin is known as the "World's Luckiest Fishing Village," and for good reason. Spend your 4th of July casting a line into the Gulf of Mexico and try your luck at reeling in some prized catches. Whether you're a seasoned angler or a beginner, there are numerous fishing charters available that cater to all skill levels. Check out fishing charters like 850 Charters and HarborWalk Charters for an epic fishing adventure you won't forget. 
Enjoy the Water
For those seeking adventure, Destin offers a wide variety of watersports activities. From jet skiing and paddleboarding to parasailing and kayaking, there's something for everyone. Feel the thrill as you glide across the water, creating lasting memories with family and friends. Our beach service offers extra beach sets, paddleboards, and kayaks to rent at an additional cost, or check out BOTE to buy your very own paddleboard.
Indulge in Coastal Cuisine
Destin is a culinary haven, offering a wide range of dining options to satisfy every palate. From fresh seafood caught that very morning to delectable international cuisines, you'll find it all in Destin. Treat yourself to a scrumptious meal while enjoying the stunning views of the Gulf. Get your seafood fix at awesome spots like The Back Porch, Dewey Destin's, Brotula's, and so many more. These joints are known for dishing out some seriously tasty coastal cuisine. Don't miss out on a good seafood dinner that'll have you craving for seconds!
Catch an Epic Fireworks Show
No 4th of July celebration is complete without a fireworks extravaganza, and Destin knows how to put on a show. Head to one of the many designated viewing areas or book a spot on a fireworks cruise for an up-close experience. Watch in awe as the night sky is illuminated with vibrant colors, celebrating the spirit of Independence. You can catch fireworks this year at:
It's no doubt that Destin offers a perfect blend of natural beauty, thrilling activities, and festive celebrations, making it an ideal destination for your 4th of July getaway. And when it comes to accommodation, we provided a gorgeous and convenient beachfront experience. Book your summer stay now and prepare to create unforgettable memories as you revel in the sun, sand, and festivities that await you in Destin this 4th of July.
Ready to add some spark to your summer? Check out our beachfront condo rentals and book your July stay today! Experience, stunning views, and top-notch amenities. Don't miss out on an unforgettable Destin getaway. Reserve now here: https://bit.ly/DestinGulfgateJuly