4 Best Restaurants to eat Oysters in Destin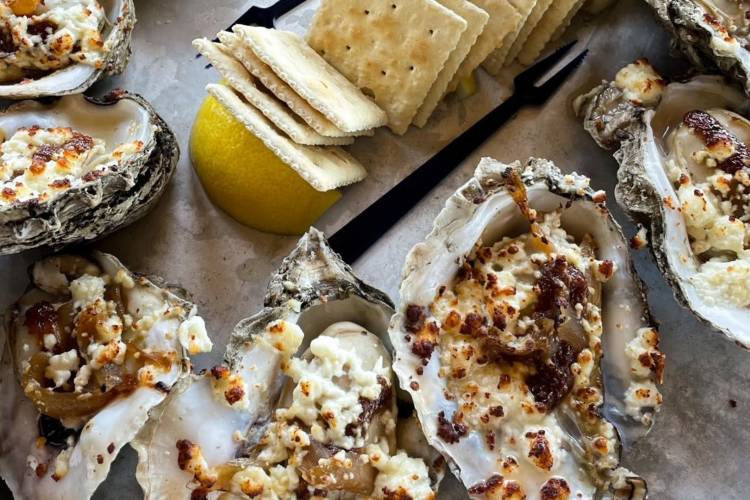 One of the best things about fall on the Emerald Coast is fresh oysters galore! The best months to eat oysters are months that end with the letter "r"  from September through April. This practice has been followed for at least 4,000 years! 
While Oysters in the Gulf of Mexico spawn year round, Oysters that are shucked in the colder months have a more desirable lean, firm texture and bright briny flavor! Get ready for fall by adding the best spots to get oysters in Destin to your trip itinerary. 
If a waterfront casual atmosphere with a menu full of high end flavors sounds up your alley, then you'll love Boshamps! While you'll definitely want to save room for the oysters, the appetizers are worth trying! When they have local blue crab claws available, try them sauteed with the garlic ginger mayonnaise. True Alabama Feta Cheese Dip is a must try as well! 
Among all the decadent seafood dishes on the menu at Boshamps, their 5 varieties of oysters steal the show. You won't want to miss out on the Oysters Boshamp, which are baked with caramelized vidalia onion, Alabama feta, and housemade bacon marmalade. 
People have been coming to The Back Porch for oysters for over 40 years! This is another spot you can dine in a casual beachfront atmosphere, but still enjoy amazing food. The best part is their fresh Apalachicola oysters, which are a must for every visit! 
Back Porch offers classic oysters on the half shell and fried oysters. However, their specialty variety is the Back Porch Oysters, which is baked and topped with crabmeat and cheese until golden brown on the top. They are then served fresh and hot to your table! 
If you find yourself along the Destin Harbor, grabbing oysters from Boathouse Oyster Bar is a must! This spot offers some awesome food, plenty of drink options, and music everyday. They have a great indoor dining room, but the best spot is out on the deck next to the water! 
Kick off your meal with a delicious appetizer like Cajun-Boiled Peanuts, Tuna Dip, or Sauteed Crab Claws. Then, move on to the main event… oysters! However you like them, Back Porch probably has them. The menu will amaze you with their options of oysters, such as the Redneck Rockefeller Oysters, topped with garlic butter, collard greens, parmesan, and panko. 
Since 1984, AJ's Seafood and Oyster Bar has been serving cold Gulf Coast oysters and refreshing drinks. What began as a popular local hang out known for fresh oysters and cold beer has grown into one of the most iconic "hot spots" on the Destin Harbor. This is the place to be if you want a combination of nightlife and oysters! There's live music every night and they regularly hold events for the community. 
For food, their oysters are still the star of the show. Raw and steamed oysters are great for those that love the classics, but don't miss out on their creative varieties! They have several options for topped oysters, including Crabby Oysters topped with crab meat stuffing, baked, and finished with creole hollandaise. The best part is they have an oyster sampler so you can try all the flavors! 
So, what are you waiting for? Book your getaway at Destin Gulfgate and add one of these spots to your itinerary!